The motorcycle is king at The Best Party Anywhere!®
* note: Biker Nation will be setup in the Crossroads area of the Buffalo's Chip.  
Sturgis, SD –  Glitz and grunge, crazy customization, new-tech engineering and old-school horsepower will all be on display at the Sturgis Buffalo Chip® during the Sturgis Motorcycle Rally when ten distinct bike shows make the venue the "Sturgis Rally Custom Mother Lode." The motorcycle shows will take place Saturday, Aug. 3 - Thursday, Aug. 8 and will feature some of the world's most astonishing machines. Participants have the opportunity to win prizes ranging from cold, hard cash to high-end components to coveted custom trophies. The bike shows will present various makes, models and customized styles, and all are open and free for public viewing. Find more information at www.BuffaloChip.com/EVENTS/Bike-Shows
Saturday, Aug. 3
Buffalo Chip School's Out Chopper Show
CrossRoads – 12 to 2 p.m. Registration, 3 p.m. Judging, 4 p.m. Awards
Ride in with your stretched-out baby and compete in one of four classes: Best Old School, Best New School, Best of Show and Count's Kustoms' pick. Win cool prizes like a chopper frame from Paughco, $500 cash from Johnny Mack's House of Choppers and Custom panel from Count's Kustoms. Meet Shannon Aikau, Ryan Evans, "Horny" Mike, Mini Mike and Ghetto Bob, the stars of HISTORY's hit show "Counting Cars!" 2019 Hall of Fame inductee Ron Paugh of Paughco will also be at the show celebrating 50 years of business and offering the show's top prize. Sponsored by Haul Bikes, Paughco, Johnny Mac's Chopper House, Chopper Nation and All Fleet.
Sunday, Aug. 4
The FXR Show & Dyna Mixer
CrossRoads – 9:30 a.m. Registration, 11 a.m. Show Starts, 2 p.m. Awards
This no-nonsense motorcycle event coordinated by Joe Milke brings together motorcycle riders to have fun and show and talk motorcycles. Hook up with other FXR and Dyna-heads, trade secrets, enter your bike and super glide to great prizes. All donations, raffle and t-shirt proceeds benefit Lifescape of SD, formerly known as Children's Care Hospital and School of SD. 
Monday, Aug. 5
V-Twin Visionary Bike Show    
CrossRoads – 11 a.m. Registration, 2 p.m. Judging, 3 p.m. Awards
All are invited to ride in and enter this free show organized by Jeff G. Holt. Free raffle and $10,000 combined cash and prize purse for show entrants, plus custom machined trophies, will be awarded in eight classes, plus Best of Show. Winners over 21 will celebrate at the Big Engine Bar with a free shot of tequila.
Three-DomTM  Show & Shine Presented by First Gold Gaming Resort
CrossRoads – 1-3 p.m. Registration, 4 p.m. Judging, 5 p.m. Awards
The ultimate trike show is free, and three-wheel lovers will find friends ready to share the love. Awards and prizes will be presented in five classes: OEM, custom, conversion, sidecar and people's choice.
Tuesday, Aug. 6
Sportster Showdown, Hog Roast & After Party presented by Led Sled Customs .
CAMP ZERO – 2 p.m. Registration, 5 p.m. Awards
This communal event celebrates the history, culture and diversity of one of the Harley-Davidson Sportster. Fans are encouraged to enter their bike for free and get ready for a memorable dose of mayhem. Awards are presented in five categories including "Best of Show," which will be presented on the Wolfman Jack Stage later that night.
Women and WheelsTM  Bike Show Presented by the Wild Gypsy Tour
CrossRoads Sturgis Rally Information Center – 8:30 a.m. Registration, 10:30 a.m. Judging, Noon Awards
All women are invited to enter their scoot in this fun and FREE three-class bike show organized by Kelly Yazdi and Jessi Combs. Join other women riders, display your bike, share its story, ogle the machinery, and win awards and bragging rights. All women are welcome to enter.  Ride in or register ahead of time by emailing Kelly@TheWildGypsyTour.com.
World's Sexiest Bagger Bike Show Presented by Strip Club Choppers
CrossRoads  – 11 a.m. to 2 p.m. Registration, 3 p.m. Judging, 4 p.m. Awards
One of the most alluring bike shows to set up shop during the Sturgis Rally. A top prize of $500 cash from Strip Club Choppers and Twisted Tea and a $500 gift certificate from American Suspension are up for grabs. Free entry. Presented by Strip Club Choppers, Twisted Tea, American Suspension, and Vette City Music Fest and Biker Bar.
Wednesday, Aug. 7
Full Throttle Magazine All Brands Bike Show and Bagger Blastoff
CrossRoads – 12 p.m. Registration, 3 p.m. Judging, 5 p.m. Awards
All makes and models are welcome to enter this classy bike show. Classes include Bagger, Antique, Paint, Non-Bagger, Metric, Ladies, Custom/Pro, Trike, Stock/Mild Custom and Anything Goes. The Bagger Blastoff welcomes any brand bagger with a loud-and-proud sound system. There is a $20 entry fee per class and plenty of prizes to go around!
Thursday, Aug. 8
Rat's Hole Custom Bike Show
CrossRoads – 10 a.m. Registration Ends, 10 a.m. to 5 p.m. Judging, 5 p.m. Awards
The granddaddy of them all, this show was started in 1937 by Karl "Big Daddy Rat" Smith. The Rat's Hole Custom Show is now a world-famous biker tradition that welcomes over 100 bikes, with 14 classes, some very cool prizes and nearly 60 custom sculpted trophies. The Best of Show winner will receive a free trip to the Swiss Custom – Customizing and Tuning Show in Zurich, Switzerland. Those interested in entering their bikes are encouraged to do so in advance at RatsHole.com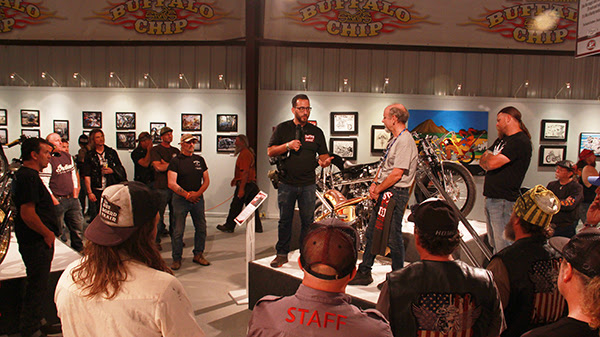 Saturday, Aug. 3 – Friday, Aug. 9   

Buffalo Chip's Motorcycles As Art, Curated by Michael Lichter

"What's the Skinny – Motorcycling Without the Fat"

Buffalo Chip Events Center, near the East Gate – 2 p.m. to 10 p.m.

This exhibit offers a look at the work of more than 40 of the world's top industry professionals and artists. This collection of bikes, which includes a majority of custom bikes built specifically for this exhibition, also includes bikes with historic significance. They will be displayed together only once, for this exclusive, seven-day event. The gallery-style exhibit will give guests an open view of the bikes from every angle, with each bike displayed atop an elevated pedestal and lit with theater lights.

Bike shows are free to the public. Those wanting to attend concerts and other activities within the campground at the Buffalo Chip may purchase a campground admission pass. More information is available at buffalochip.com

 More info about the bike shows at the Buffalo Chip can be found at www.BuffaloChip.com/EVENTS/Bike-Shows 

About the Sturgis Buffalo Chip

The Sturgis Buffalo Chip® is the Largest Music Festival in Motorcycling®. It is the world's first and leading entertainment destination for the motorcycle enthusiast and South Dakota Excellence in Tourism Innovation award winner. Since 1981, the venue's high-profile, nine-day festival, known as The Best Party Anywhere®, remains one of the world's most televised and longest running independent music festivals. Located three miles east of Sturgis, SD on 600 creek-fed acres, it offers six stages of entertainment, a swimming hole, bars, mouth-watering food, showers, cabins, RVs, camping and more to visitors traveling from all corners of the world. The Chip's concerts and races are free with camping. The 2018 Motorcycles as Art exhibit, "Passion Built – Garage to Gallery" curated by Michael Lichter, numerous bike and stunt shows and all shopping, live music and events at the CrossRoads are free and open to the public. More details are available at www.BuffaloChip.com.

 

###

Liquid error: Could not find asset snippets/relatedblogs.liquid