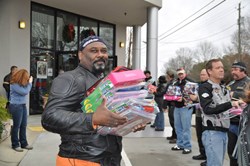 RALEIGH, N.C. (PRWEB) December 23, 2013
Santa's elves donned leather jackets on a recent Saturday as hundreds of motorcycle riders hit the streets for the annual Toys For Tots Ride, sponsored by Ray Price Harley-Davidson and the Raleigh Harley Owners Group (H.O.G.). Throughout November and December, the Ray Price dealership collected donated toys and bicycles to share with low-resource youth in the community. In all, Raleigh H.O.G., Walmart and Ray Price donated 80 bicycles and $2,500 in cash and toys to the U.S. Marines Toys For Tots.
"We enjoy the cruise-in with all our friends in Raleigh H.O.G., as well as partnering with the Marines to help put smiles on kids' faces," said Kris Weiss, Ray Price Harley-Davidson spokesperson.
The Raleigh H.O.G. makes a huge impact in the community. Earlier this year, employees of Walmart Triangle Town Center, including Raleigh H.O.G. member Billy Marshall, worked with store manager Bobby Parnell to donate their returned and damaged bicycles.
Raleigh H.O.G. members picked up the bikes, repaired them, and stored them at Ray Price Harley-Davidson to be distributed to the community throughout the year. In 2012, 40 bikes were donated to Toys For Tots.
The Toys For Tots Ride included participation in the Laying of the Wreath at the state capitol to honor fallen U.S. Veterans prior to the cruise-in to deliver the 80 bikes and truckloads of toys.
About Ray Price Harley-Davidson:
Now in its 30th year in Raleigh, N.C., Ray Price Harley-Davidson serves as one of the Southeast's premier motorcycle dealerships. Staff has 950 years of combined Harley riding experience to provide award-winning customer service and education programs for beginners-to-expert riders.  The dealership's commitment to community philanthropy has resulted in more than $100,000 in donations to local nonprofits in recent years. For nine years the annual Ray Price Capital City Bikefest presented by Nationwide Insurance has attracted between 85,000 and 100,000 people to Raleigh for the state's largest motorcycle festival. In 2013, Ray Price was named a "Top 10 Dealer" nationwide by Dealernews.
About Marine Toys for Tots Foundation:
The Marine Toys for Tots Foundation is a not-for-profit organization authorized by the U.S. Marine Corps and the Department of Defense to provide fundraising and other necessary support for the annual U.S. Marine Corps Reserve Toys for Tots Program. Now in its 66th year, Toys for Tots provides joy and a message of hope to economically disadvantaged children through the gift of a new toy or book during the Christmas holiday season. In 2012, Marines distributed holiday gifts to 7.2 million children in 740 communities nationwide. Since 1947, more than 209 million children have been assisted.
The post Harley Dealer Delivers Truckloads of Toys and Bikes For Children appeared first on USRiderNews.